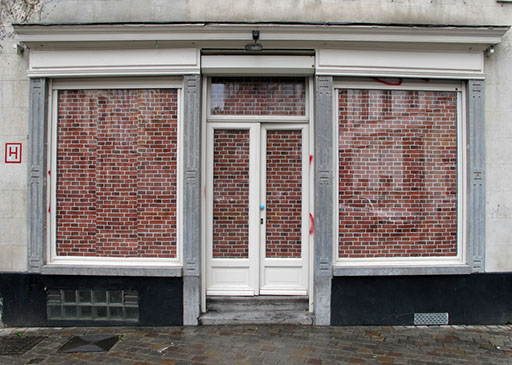 ET AU MILIEU COULE UNE RIVIÈRE / A RIVERS RUNS THROUGHT IT
installation, bois, tissu, boue / installation, wood, fabric, mud
dimensions variables / variable size
2011
ET AU MILIEU COULE UNE RIVIÈRE est une installation jouant avec le site d'exposition et, par extension, la ville de Bruxelles.
En effet, à l'a-plomb de la galerie où fut exposée cette installation coule la Senne.
La Senne est la rivière qui traverse de Bruxelles de part en part.
Elle est invisible à l'oeil car elle fut bouchée au début du XIXème siècle pour enrayer une épidémie de choléra.
L'installation propose donc aux spectateurs de marcher dans cette rivière qu'ils ne peuvent voir ni toucher.
A RIVER RUNS THROUGH IT is an installation playing with the exhibition site and, by extension, the city of Brussels.
Indeed, straight below the gallery where this installation was exhibited flows the Senne.
The Senne is the river running through Brussels..
It is invisible to the eye because it was blocked in the early nineteenth century to stem a cholera epidemic.
The installation proposes viewers to walk in the river they can not see or touch.